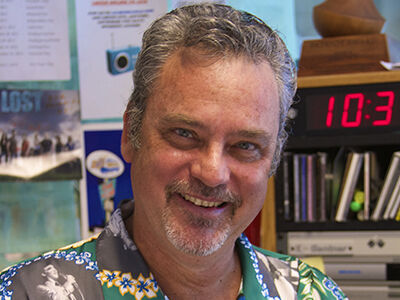 "DaSilva & Gold" features 'The Hits of the 70's, 80's and more,' every weekday morning from 6a to 10a – Enjoy local & national news, "The Kool Komedy Klip' of the morning, "The Kool Koncert Kalender,' 'Kool Killer B-sides,' and the 'Koolest Ko-Worker,' each morning from the Kool Gold studios, located in beautiful downtown North Kalihi! Bart also hosts "Uncle Toms' Rock & Roll Drive In" Saturday mornings from 7a to 10a – a tribute to Hawaii's 'Showman of the Pacific,' and radio personality, 'Uncle' Tom Moffatt!
Check out Bart for all the fun every morning on Kool Gold 1079!
---
Bart DaSilva grew up listening to Hawaii radio beginning in the early 70's and was bitten by the 'bug' to one day be a part of 'The magic of the broadcast medium!' Not only were there great local personalities back then (Kamasami Kong, Lou Richards, Ron Jacobs, Tom Moffatt, and more), but the music was, and remains, the best ever!
After winning numerous radio contests from local radio legend Lan Roberts, Bart was invited to come by and 'check out the station' by Lan himself! He was smitten by this strange, new, alternate universe and soon found himself hanging out at the station (KPOI 98 Rock,) more and more. Soon he was offered a stint on air, which began his 'long, strange trip' radio career! He thought, "What job allows you to hang out with so many talented people, have so much fun, meet local and national musicians/ personalities, AND get paid?"
He soon found himself working alongside the legendary 'Who Da Guy' Ron Jacobs, doing mornings on 98 Rock, back when it was located in the Dillingham Transportation Building on Bishop street downtown! From there he went on to help found Oldies 1079 in 1997, producing the Late, Great Tom Moffat morning show, as well as being On Air, to which he remains today, doing the morning show "DaSilva & Gold," on Hawaii's Kool Gold 1079!